Free Sample: The New Testament: A Guided Tour
Sign up here to receive your free sample recording by renowned New Testament teacher, Rev. Felix Just, S.J. (Ph.D., Yale University), and subscribe to our e-newsletter. We will email a link enabling you to download these files for playback on your computer or iPod.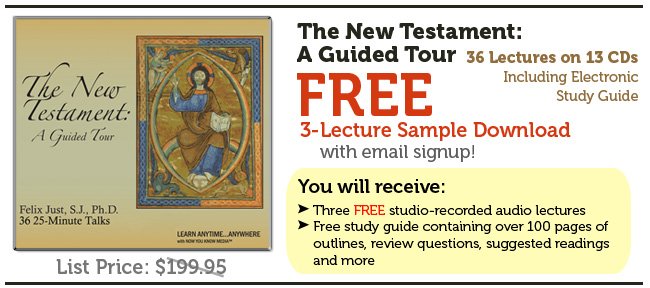 How would you like to join one of America's leading New Testament master teachers in an audio course you can experience whenever and wherever you desire?
These three lectures, drawn from Rev. Just's acclaimed series, The New Testament: A Guided Tour, can be enjoyed in your car or at home. Their aim is to increase your understanding and enjoyment of scripture. Prayerfully inspired and expertly taught, this special course is used by churches and individuals worldwide.
We are willing to give you these 3 lectures FREE of CHARGE in hopes that they will inspire you to explore our selection of over 140 Christian audio and video courses and retreats. You are under no obligation to ever buy from us, but we hope you will choose to become a customer.
Welcome to our community of learners! We will add you to our own Now You Know Media e-newsletter and update you on new Catholic courses and retreats.
After signing up, you will be entitled to special notices and sales on new courses and retreats. Your email address is kept secure and is not sold or rented to anyone else, and you may unsubscribe from our newsletter at any time.