Fr. André Brouillette, S.J., Ph.D., S.T.D.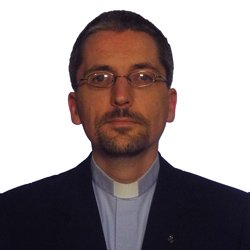 Fr. André Brouillette, S.J., Ph.D., S.T.D., teaches Systematic and Spiritual Theology at the Boston College School of Theology and Ministry, where he also serves as Director of the Sacred Theology Licenciate program. A Jesuit priest from Quebec, Fr. Brouillette received a bachelor's degree in philosophy from the Centre Sèvres in Paris, an M.A. in philosophy from the Université de Montréal, and an M.A. in history from the University of Toronto. He then taught philosophy and Church history in Port-au-Prince, Haiti, at the Grand Séminaire Notre-Dame and the School of Theology for Religious. He received a Master of Divinity from the Weston Jesuit School of Theology in Cambridge, Massachusetts, and a Licentiate in Sacred Theology from the Boston College School of Theology and Ministry.
Fr. Brouillette then earned a Doctorate in Sacred Theology summa cum laude from the Institut Catholique de Paris, in addition to a Ph.D. from the Université Laval in Quebec City. His doctoral dissertation there explored the role of the Holy Spirit for salvation through the lens of the writings of St. Teresa of Ávila. It was later published as a book (part of the prestigious series Cogitatio Fidei) under the title of Le lieu du salut: Une pneumatologie d'incarnation chez Thérèse d'Avila (Editions du Cerf). He has published articles in various languages and lectured internationally.
Praise for Fr. André Brouillette
"André Brouillette's deep training in soteriology is reflected both in his superb scholarship and in his accessibility as a teacher in the classroom. One of the rising stars of his generation."
– Mark Massa, S.J., Boston College
"André Brouillette has developed a singular ability in reading narratives of salvation, both in the Bible and outside of it. He discerns in a unique manner how life narratives are permeated with biblical features and potentialities. The result proves to be very inspiring for readers and listeners."
– Emmanuel Durand, OP, Dominican University College (Carleton University)
"André Brouillette, SJ, is a gifted systematic and constructive theologian whose expertise in spirituality and fundamental theology excites and inspires his students. Competent in several languages and the social sciences, his theology is devoted to imagining anew, Christian living and the church in our contemporary context of change and disruption."
– Mary Ann Hinsdale, IHM, Boston College
No products were found matching your selection.