Catherine A. Sanderson, Ph.D.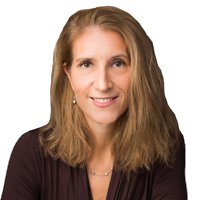 Catherine A. Sanderson is a leading expert on positive psychology. She is the Manwell Family Professor of Life Sciences (Psychology) at Amherst College, and her research examines how personality, persuasive messages, and social variables influence health-related behaviors, and the predictors of relationship satisfaction. She has won grant funding from the National Science Foundation and the National Institutes of Health.
In 2012, Prof. Sanderson was named one of the country's top 300 professors by the Princeton Review. She received a bachelor's degree in psychology, with a specialization in Health and Development, from Stanford University, and received both her masters and doctoral degrees in psychology from Princeton University.
Prof. Sanderson speaks regularly for public and corporate audiences on topics such as the science of happiness, the power of emotional intelligence, the mind-body connection, and the psychology of good and evil. She is the author of the popular press book on parenting, Slow and Steady Parenting: Active Child-Raising for the Long Haul, From Birth to Age 3, as well as a handful of high school and college textbooks, including Sport Psychology (Oxford University Press, 2016). She authored The Positive Shift (published in 2019) and her most recent book – Why We Act:  Turning Bystanders Into Moral Rebels – will be published in March of 2020 by Harvard University Press.
Praise for Professor Catherine A. Sanderson
"I work with notable college professors throughout the US and Canada; if there is a more powerful, fascinating, and engaging lecturer then Catherine Sanderson—well, I've never seen him or her. Her ability to connect with audiences and hold their attention is quite remarkable, and her mixture of humor, academic scholarship, and practical advice keeps them riveted from her opening welcome to her closing remarks."
– Steven Schragis, Executive Director, One Day University
"Passionate, dynamic, engaging, Catherine Sanderson will change the way you think about happiness. With her ability to educate and entertain, audiences always leave well informed and—dare I say—happy."
– Louis P. Masur, Distinguished Professor of American Studies and History, Rutgers University
"I have hosted dozens of world-renowned speakers over the years but it is safe to say that when it comes to delivery and engagement no one comes close to Catherine Sanderson. She lectures as if she were a stand-up comic, constantly surprising audiences and listeners by using anecdotes to illustrate the latest scientific discovery in her field. The result is an exhilarating tour that leaves you wiser and happier at the same time. Buckle up for the ride!"
– Anouar Majid, Director of the Center for Global Humanities and Professor of English, University of New England
Showing all 3 results