Dr. Daniel G. Van Slyke, J.D., Ph.D.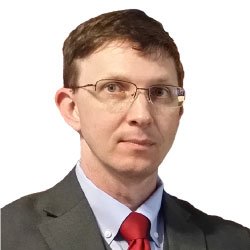 Dr. Daniel G. Van Slyke, J.D., Ph.D., holds an M.A. in theology from the University of Dallas, an S.T.L. in systematic theology from Mundelein Seminary, a Ph.D. from Saint Louis University, and a J.D. from Texas A&M University School of Law. He has taught at the University of Dallas, the Liturgical Institute of the Mundelein Seminary, Ave Maria College, Caldwell College, Kenrick-Glennon Seminary in St. Louis, Our Lady of Guadalupe Seminary in Nebraska, and the programs of formation for permanent diaconate candidates in St. Louis and in Tulsa. He also served as Dean of Online Learning at Holy Apostles College and Seminary.
Dr. Van Slyke's articles have appeared in such places as Dumbarton Oaks Papers, Ephemerides Liturgicae, The Josephinum Journal of Theology, New Blackfriars, The New Catholic Encyclopedia, The New Westminster Dictionary of Church History, and the T&T Clark Companion to Liturgy. As an active member in several professional organizations, Dr. Van Slyke has delivered numerous papers at scholarly conferences and workshops and reviewed dozens of books. For eight years, he sat as an elected member on the board of directors of the Society for Catholic Liturgy, and for five years, he served on the editorial staff of Antiphon: A Journal for Liturgical Renewal.
Showing all 2 results