Dr. Michelle M. Francl-Donnay, Ph.D.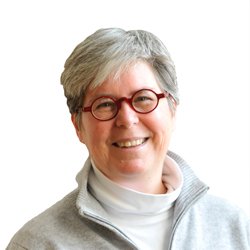 Michelle Francl-Donnay is an award-winning professor of chemistry and the chair of the chemistry department at Bryn Mawr College, as well as an adjunct scholar of the Vatican Observatory. She has been a fellow at Princeton University, the James Franck Institute at the University of Chicago, and the Beckman Center for the History of Chemistry. Trained as both a Roman Catholic theologian and a scientist, Dr. Francl-Donnay is an expert on the intersection of faith and science. She received her Ph.D. in chemistry from the University of California, Irvine, studied theology at St. Charles Borromeo Seminary, and completed her postdoctoral work at Princeton University. For her contributions to the field, she was elected a Fellow of the American Chemical Society in 2009.
Dr. Francl-Donnay is a quantum chemist whose research interests include molecular structure determination and the development of methods for computational chemistry. She is also an award-winning writer whose essays on the history and philosophy of science have appeared in Slate,Nature Chemistry, and several collections. Her reflections on prayer and Catholic spirituality can be found both in print and online; her most recent book is Not By Bread Alone. She is also a frequent contributor to the monthly prayer guide "Give Us This Day" and to the Philadelphia Archdiocese's CatholicPhilly.
Praise for Michelle Francl-Donnay
"Dr. Michelle Francl is the guide the world needs to the integration of the material world, ruled by the laws of physics, and the immaterial world, nurtured by the Spirit of God. With the mind of a scientist, the heart of a mystic, and a sense of humor that comes straight from God, she sees to the depths of the transcendent ordinary. With her help, we can find the mystery in the quantum structure of a burning atom, the human meaning of dirty dishes, or the poetic history of dust on a desk."– Dr. Kimberly Belcher, Prof. of Liturgical Studies at Notre Dame University
"Michelle Francl is a leading scientist and lifelong seeker who, like many of us, has glimpsed, if only for moments here and there, the face of God in ordinary life. She is able to write about it and talk about it in language that all of us can understand and benefit from. I can't recommend her work highly enough." – Michael Leach, author of Soul Seeing and publisher emeritus of Orbis Books.
Showing the single result