Fr. Anthony Gittins, C.S.Sp., M.A., Ph.D.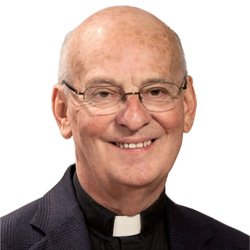 Fr. Anthony Gittins, C.S.Sp., M.A., Ph.D., is a widely experienced missionary pastor and Professor of Theology and Culture at The Catholic Theological Union since 1984. He held the Bishop Ford Chair of Mission Theology from 1999–2008. Born in Manchester, England, and ordained in 1967, he earned M.A.s in Theoretical Linguistics and Social Anthropology and a Ph.D. in Social Anthropology from the University of Edinburgh. He later pursued post-doctoral research at the Universities of Oxford and Cambridge.
He is the author of fourteen books on theology, anthropology, mission, and spirituality, including Ministry At The Margins: Strategy and Spirituality for Mission (Orbis, 2002), Come, Follow Me: The Commandments of Jesus (Liguori, 2004), Where There's Hope, There's Life: Women's Stories and Practical Theology (Liguori, 2006), and Called to be Sent: Co-Missioned as Disciples Today (Liguori, 2008).
A member of the Congregation of the Holy Ghost, Fr. Gittins has taught, offered workshops, and given retreats in more than 35 countries. From 1972–1980 he worked among the Mende people of Sierra Leone as a missionary pastor, linguist, and ethnographer, and from 1980–1984 he was Formation Director in London, where he also lectured at the Missionary Institute. He has also has worked for almost 30 years with homeless women on the streets of Chicago.
Showing all 2 results