Fr. Dennis Hamm, S.J., Ph.D.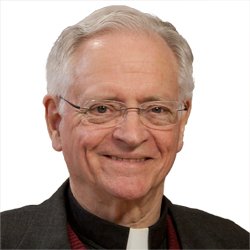 Father Dennis Hamm is Professor of Theology and the Amelia B. and Emil G. Graff Endowed Faculty Chair in Catholic Theology at Creighton University, where he has taught Scripture since 1975. He received a Ph.D. in Biblical Languages and Literature from St. Louis University, and he holds advanced degrees in English and in Philosophy and Letters. Fr. Hamm has been a Fellow at the Yale School of Divinity, a researcher at the Pontifical Biblical Institute in Rome, and a scholar-in-residence at the Tantur Ecumenical Institute in Jerusalem.
A priest of the Society of Jesus since 1970, Fr. Hamm is a member of the Catholic Biblical Association, the Society of Biblical Literature, the College Theology Society, and Pax Christi. His articles have appeared in many prominent publications, and from 1996 to 1999, he wrote the weekly "Word" column for America. His most recent book is Building Our House on Rock: The Sermon on the Mount as Jesus' Vision for Our Lives, as Told by Matthew and Luke, published by the Word Among Us Press (2011).
Showing all 4 results