Fr. Frank J. McNulty, S.T.D.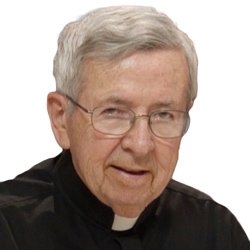 A priest for over 60 years, Fr. Frank McNulty received his Doctorate of Sacred Theology from the Catholic University of America. He taught moral and pastoral theology for 18 years at the Immaculate Conception Seminary School of Theology at Seton Hall University. In 1979, he was appointed as the first Vicar of Priests of the Archdiocese of Newark. When Pope John Paul II came to the United States in 1987, Fr. McNulty was chosen by the National Council of Catholic Bishops to address him on behalf of the nation's priests. Impressed by his gentle persuasion, Peter Jennings named him "Person of the Week," and UNICO named him Citizen of the Year.
Having served for several different parishes throughout his career, Fr. McNulty holds parish missions, retreats, and workshops throughout the country. He is the author of the books Invitation to Greatness (Dimension, 1974), Should You Ever Feel Guilty? (Paulist, 1978), and Preaching Better (Paulist, 1985). In 1988, he received the National Federation of Priests Council's President's Award.
Showing the single result