Fr. Frank J. Matera, Ph.D.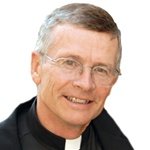 Fr. Frank J. Matera, Ph.D., is a leading expert on St. Paul. He received his M.A. from the Catholic University of Louvain and his Ph.D. from Union Theological Seminary in Richmond, VA. Fr. Matera taught at St. John's Seminary in Boston from 1982–87 and at The Catholic University of America from 1988–2012. At CUA, he served as associate chair of the Department of Theology from 1995 to 1998 and as its chair from 1998 to 2001.
Fr. Matera is the author of numerous books, including God's Saving Grace: A Pauline Theology (Eerdmans, 2012), Strategies for Preaching Paul (Liturgical Press, 2001), and commentaries on Romans, Galatians, and 2 Corinthians. He has also published works on the Passion narratives, New Testament ethics, New Testament Christology, and the theology of the New Testament. Fr. Matera previously served as president of The Catholic Biblical Quarterly, and he is a member of the Catholic Biblical Association of America, the Society of Biblical Literature, and the Society for the Study of the New Testament. He is currently Pastor at St. Mary's Church in Simsbury, CT.
Showing all 2 results