Fr. John W. O'Malley, S.J., Ph.D.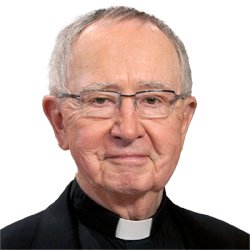 John W. O'Malley, a Roman Catholic priest and member of the Society of Jesus, is currently University Professor in the Theology Department of Georgetown University, Washington, DC. He holds a Ph.D. in history from Harvard University. His specialty is the religious culture of early modern Europe. Father O'Malley has written and edited a number of books, several of which have won best-book awards. For instance, The First Jesuits, perhaps his best known work, received both the Jacques Barzun Prize for Cultural History from the American Philosophical Society and the Philip Schaff Prize from the American Society for Church History. It has been translated into ten languages. In 2008, he published with Harvard University Press What Happened at Vatican II, which is a companion to his book from the same press, Trent: What Happened at the Council (2012).
Father O'Malley has lectured widely in Europe and North America to both professional and general audiences. He is past-president of the Renaissance Society of America and the American Catholic Historical Association. He holds the Johannes Quasten Medal from The Catholic University of America for distinguished service in religious studies. In 1995 he was elected to the American Academy of Arts and Sciences, in 1997 to the American Philosophical Society, and in 2001 to the Accademia di san Carlo, Ambrosian Library, Milan. He holds lifetime achievement awards from the Society for Italian Historical Studies, the Renaissance Society of America, and the American Catholic Historical Association.
"John W. O'Malley, S.J., is not only the dean of American Catholic historians, he is also one of the church's greatest and most accomplished teachers."– James Martin S.J., author of My Life with the Saints
No products were found matching your selection.