Fr. Joseph J. Feeney, S.J., Ph.D.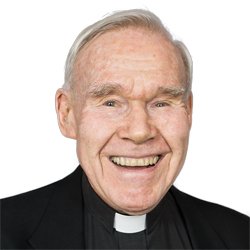 Joseph J. Feeney, S.J., Ph.D., is a leading expert on Gerard Manley Hopkins and Professor of English at St. Joseph's University in Philadelphia, where has taught for over 40 years. After receiving an M.A. from Fordham University and a Licentiate of Sacred Theology from Woodstock College, he earned a Ph.D. in English from the University of Pennsylvania. He has held Chairs at Georgetown University, Santa Clara University, and Seattle University.
Fr. Feeney wrote the book The Playfulness of Gerard Manley Hopkins (Ashgate, 2008), coedited Hopkins Variations: Standing round a Waterfall (Saint Joseph's and Fordham University Presses, 2002), and has served since 1994 as coeditor of The Hopkins Quarterly. He has published over 100 articles and given over 75 lectures on Hopkins throughout the world. In 1998, he discovered in London an unknown poem by Hopkins, "Consule Jones" (1875). Fr. Feeney has also written articles on literature in such journals as The Times Literary Supplement, The New York Review of Books, American Studies, Thought, Proceedings of the Royal Society of Canada, and many more.
Fr. Feeney has received numerous awards, including two grants from the National Endowment for the Humanities and the Lindback Award for Distinguished Teaching in 1983. In 2006 he was named a Fellow of the English Association (FEA) in England, and in 2009 was a Visiting Scholar lecturing at a Hopkins performance of Hopkins' poetry by Theaterwork, in Santa Fe, New Mexico. Ordained a Jesuit priest in 1965, he completed his Jesuit studies at St. Bueno's College, where Gerard Manley Hopkins studied theology.
Praise for Joseph Feeney
"Fr. Joe Feeney is a pre-eminent scholar of the poetry of Gerard Manley Hopkins… But perhaps more importantly he's a vocal interpreter/teacher of Hopkins, someone who feels and then transmits — and thus teaches — the poems: no one does better at making the poems come alive."
– Frank Fennell, Professor of English, Loyola University Chicago
"Father Joseph Feeney combines the skills of Hopkins scholar, literary critic, poetry interpreter and humanist, with those of raconteur, performer, wit, and playful brother Jesuit of Hopkins himself. Both hearty and sensitive, Feeney could make Hopkins laugh at himself at the same time that Gerard could feel fraternal sympathy and understanding."
– Dr. Joaquin Kuhn, University of Toronto
"As perhaps the leading global scholar of Hopkins, Fr. Feeney takes the complex and knotted works of the Victorian poet and brings them to urgent, electric life. He's a masterful guide, and never tires of finding new richness in this great body of work."
– Steven Elwell, Saint Joseph's University, '06
Showing all 6 results