Fr. Murray Bodo, O.F.M., Ph.D.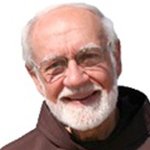 Fr. Murray Bodo, O.F.M., Ph.D., is Associate professor at Thomas More College, a Franciscan Priest and a member of the Franciscan Academy. He earned a Ph.D. in English from the University of Cincinnati and taught English and American Literature and the craft of writing for 36 years. He is an award-winning author of more than 25 books, including the best-selling Francis: The Journey and the Dream, Mystics: Ten Who Show Us the Ways of God, and Song of the Sparrow: New Poems and Meditations. His poems, stories, and articles have appeared in magazines and literary journals. Fr. Murray resides in Cincinnati, Ohio, and spends three months of the year in Assisi, Italy, as a staff member of Franciscan Pilgrimage Programs.
Photo by Jack Wintz, OFM.
Showing all 2 results