Fr. Nicholas Ayo, C.S.C., S.T.L., Ph.D.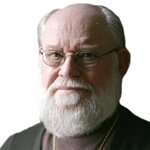 Fr. Nicholas Ayo, C.S.C., is Professor Emeritus of Liberal Studies at Notre Dame University. A priest in the Congregation of Holy Cross, he received the S.T.L. degree from the Gregorian University in Rome and the Ph.D. in literature from Duke University. He was the Director of Novices for the Congregation of Holy Cross in North America for six years and taught in the Great Books Program at the University of Notre Dame until 2004. He is the award-winning author of fourteen books, including The Creed as Symbol, The Lord's Prayer, Gloria Patri: The History and Theology of the Lesser Doxology, and The Hail Mary: A Verbal Icon, which won the 1994 Cardinal John J. Wright Mariological Book Award.
Photo by Matt Cashore.
Showing all 5 results