Fr. Ron Witherup, S.S., Ph.D.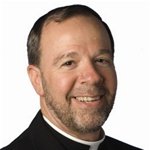 Sulpician Father Ronald D. Witherup, S.S., Ph.D., is a leading expert on St. Paul. He is a frequent retreat master, lecturer on biblical and theological topics, and celebrated author whose works cover multiple areas of the Bible. Among his published books are The Bible Companion: A Handbook for Beginners, Matthew: God With Us, the award-winning Biblical Fundamentalism: What Every Catholic Should Know, and 101 Questions & Answers on Paul. His most recent books are Scripture: Dei Verbum, St. Paul: Called to Conversion, Stations of the Cross According to Saint Paul, and Gold Tested in Fire: A New Pentecost for the Catholic Priesthood. He is the presenter of two other programs from Now You Know Media, Saint Paul: His Life, Faith and Legacy and St. Paul's Letters: First and Second Corinthians and Galatians.
Fr. Witherup is currently the Superior General of the Sulpician Order, an international group of Catholic priests. A former dean and professor of Sacred Scripture at St. Patrick Seminary in Menlo Park, CA, he received his doctorate in biblical studies from Union Theological Seminary in Richmond, VA.
Showing all 3 results