Fr. Thomas Richstatter, O.F.M., S.T.D.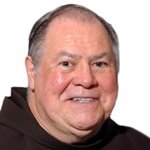 Thomas Richstatter, O.F.M., is a Franciscan priest of the Cincinnati province. He has received advanced degrees in Theology from the University of Notre Dame and Liturgy from the Liturgy Institute in Paris, France. His doctorate in Theology was granted by the Catholic Institute of Paris in 1976. He has served the Church as Executive Secretary of the Federation of Diocesan Liturgical Commissions. He is currently professor of liturgy and sacramental theology at Saint Meinrad School of Theology in Indiana.
A popular writer and lecturer, he is the author of over 100 articles, audiotapes, and videos. His book, The Sacraments: How Catholics Pray, is used by many parishes in the USA for catechumens and candidates coming into the Catholic Church. Fr. Tom appears in more than a dozen Catholic Update videos, including "Understanding the Sacraments" and "A Walk through the Mass." He is most widely known for his liturgical and sacramental contributions to the monthly publication Catholic Update. His book Eucharist: Jesus with Us was published in 2009.
Showing all 2 results