Fr. William J. Byron, S.J., Ph.D.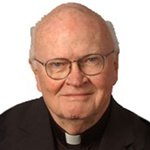 Rev. William J. Byron, S.J., Ph.D., is University Professor at Saint Joseph's University and a senior fellow at the University of Pennsylvania. He is past president of The Catholic University of America and the University of Scranton, and he served as interim president of Loyola University in New Orleans. He previously served as pastor of the Holy Trinity Catholic Church in Washington, D.C., Distinguished Professor of the Practice of Ethics at the McDonough School of Business at Georgetown University, and rector of the Georgetown Jesuit Community.
After service in the army's 508th Parachute Infantry Regiment from 1945-46, he attended Saint Joseph's University in Philadelphia for three years before entering the Jesuit order in 1950. Rev. Byron also holds a doctorate in economics from the University of Maryland, two theology degrees from Woodstock College, and a bachelor's degree, licentiate in philosophy, and a master's degree in economics from Saint Louis University.
He was the 1999 recipient of the Association of Catholic Colleges and Universities' Theodore M. Hesburgh Award for his contributions over the years to the advancement of Catholic higher education. In that same year, he received the Council of Independent Colleges' Academic Leadership Award. Rev. Byron holds 30 honorary degrees and is the author of 10 books, including Quadrangle Considerations (1989), which won the Catholic Press Association's best book award in the education category. That same association gave its first place award in the Best Essay category to his "Structural Adjustments for a Church Working Its Way through Crisis," in the Winter 2004 issue of Church magazine.
Showing all 4 results