Sr. Dawn M. Nothwehr, OSF, Ph.D.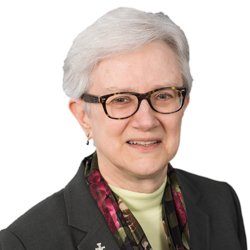 Sr. Dawn M. Nothwehr, OSF, is the Erica and Harry John Family Endowed Chair in Catholic Theological Ethics at Catholic Theological Union.  She is also co-editor of CTU's peer reviewed journal, The New Theology Review. Dr. Nothwehr has written six books, including Franciscan Theology of the Environment: An Introductory Reader, Ecological Footprints: An Essential Guide for Sustainable Living, and A Franciscan View of the Human Person: Some Central Elements. A member of the Sisters of St. Francis, Rochester, she holds a Ph.D. in Religious Studies from Marquette University.
For more than twenty years, Dr. Nothwehr has presented numerous workshops, seminars, and retreats on environmental ethics and theology, particularly from the perspective of the Franciscan Intellectual Tradition. Her current research focuses on global climate change, environmental ethics, and ecotheology. In 2012, Dr. Nothwehr was listed among the top twenty-five eco-theologians in the Heartland of the U.S. by The National Council of Churches of Christ Ecojustice Programs. Since April of 2015, she has served as a consultant on the implementation of Pope Francis' environmental encyclical, Laudato si'.
*Image courtesy of Mark Campbell Photography
Praise for Dawn Nothwehr
"Dawn Nothwehr has a long track record of passionate commitment to justice, and one of her deepest investments is in education on behalf of a new vision of ecology-based ethics. She is scholar, teacher, advocate, and sought-after speaker in this field. She will not disappoint those looking for presentations with depth, breadth, and energy to inspire their own care for the Earth!"
– Mary Frohlich, RSCJ, Catholic Theological Union
"For both a well-informed and an ardent voice on the nexus between theology and ecology, Dawn Nothwehr immediately comes to my mind. With an extensive track record of peer-reviewed scholarly research and many years of teaching experience, she is a go-to theological expert on this urgent topic."
– Tobias Winright, Saint Louis University
"Through her highly qualified theological background and a keen analytical mind… Dr. Nothwehr offers the key scientific perspectives necessary to grasp the profound challenges that face us as inhabitants of the earth, and deep theological insight to ground and sustain the great hope that the tradition offers."
– Dr. Judith Merkle, Niagara University
Showing the single result