Prof. Gerard Mannion, D.Phil.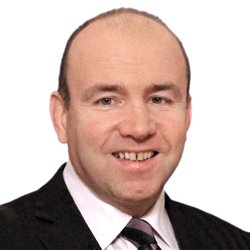 Prof. Gerard Mannion, D.Phil., is the Amaturo Professor in Catholic Studies and fellow of the Berkley Center for Religion, Peace, and World Affairs at Georgetown University. He has published widely in the fields of ecclesiology, ethics, and philosophy. His books include Ecclesiology and Postmodernity: Questions for the Church in Our Time (2007), The Routledge Companion to the Christian Church (edited with Lewis Mudge, 2008), The Ratzinger Reader (edited with Lieven Boeve, 2010), and The Art of Magisterium: a Teaching Church that Learns (forthcoming). He serves as chair of the Ecclesiological Investigations International Research Network and editor of the Continuum Series, "Ecclesiological Investigations."
Prof. Mannion received a B.A. from King's College, Cambridge, and his doctorate from New College, Oxford University. He is a Senior Research Fellow of the Katholieke Universiteit Leuven, Belgium. Previously, he served as Director of the Frances G. Harpst Center for Catholic Thought and Culture at the University of San Diego Lecturer and Tutor at the University of Oxford, as Senior Lecturer at the University of Leeds, and as Associate Professor at Liverpool Hope University, where he was founding director of the Centre for the Study of Contemporary Ecclesiology.
Praise for Gerard Mannion
"Gerard Mannion has emerged as one of the most energetic and incisive voices in Catholic scholarship today. He brings a vast erudition to bear on the challenges facing the church today, but without being bogged down in academic jargon. Mannion is faithful to the Great Tradition, yet astute in discerning where the Spirit is leading the people of God today."
– Richard R. Gaillardetz, Joseph Professor of Catholic Systematic Theology, Boston College
"I enthusiastically recommend Gerard Mannion's series on Pope Francis. You will enjoy every minute listening to one of my favorite scholars speaking about this fascinating pope who has caught the attention of the world."
– Rev. John W. O'Malley, S.J., Georgetown University, Department of Theology
"Prof Gerard Mannion is a first class Roman Catholic theologian who specialises in issues related to the sharing of riches between the various Christian Churches. He has arranged a series of international conferences on Comparative ecclesiology involving speakers of the highest calibre. He is renowned for his lectures and writings throughout the English-speaking world and beyond."
– Dr. Kevin T. Kelly, Catholic priest and theologian
Showing all 6 results