Prof. Ian Boxall, D.Phil.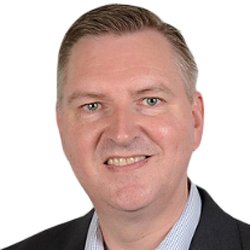 Prof. Ian Boxall, D.Phil., is a British New Testament scholar and an associate professor of New Testament at The Catholic University of America in Washington, D.C. He received his master's degree and doctorate in the New Testament, as well as his bachelor's degree in theology, from the University of Oxford, where he wrote his dissertation on Revelation. Before moving to the United States in 2013, Prof. Boxall taught the New Testament in the United Kingdom for over twenty years, first at Chichester Theological College from 1992–1994, then at the University of Oxford from 1994–2013.
Among Prof. Boxall's publications are a number of books on the Book of Revelation, including Revelation: Vision and Insight (SPCK, 2002), The Revelation of John (Continuum and Hendrickson, 2006), and Patmos in the Reception History of the Apocalypse (Oxford University Press, 2013). He is also the author of Discovering Matthew (Eerdmans, 2015) and two undergraduate study guides to the New Testament: New Testament Interpretation and The Books of the New Testament (SCM Press, 2007). He was previously editor of Scripture Bulletin, the journal of the Catholic Biblical Association of Great Britain.
Praise for Ian Boxall
"Ian Boxall is one of the brightest and most incisive of younger British Catholic New Testament scholars. Before being head-hunted for Catholic University, Washington, he taught with distinction for some years in the theology faculty of Oxford University. He has a talent for expressing profound and illuminating truths in a succinct and understandable form."
– Fr. Henry Wansbrough, O.S.B., Liverpool Hope University
"Ian Boxall is well known as an outstanding scholar on all areas of the New Testament…. He has captivated his students at the University of Oxford and The Catholic University of America over many years now."
– Nicholas King, S.J., University of London
"Ian Boxall has a great talent for communicating his vast knowledge and scholarship on the writings of the New Testament. Clarity combined with originality are key features of all his written works."
– Catrin H. Williams, University of Wales Trinity Saint David
"Dr Ian Boxall is a hugely talented British New Testament scholar, and a renowned expert on the Book of Revelation, who is ideally suited to explain the intricacies of this complex but fascinating book."
– Rev. Dr Adrian Graffy, Pontifical Bible Commission
"Professor Ian Boxall is a world-leading expert on the understanding and history of the interpretation of one of the most enigmatic books in the Bible, the Book of Revelation."
– Christopher Rowland, Dean Ireland Professor Emeritus of the Exegesis of Holy Scripture at the University of Oxford
"In his course on the Gospel of Mark, Ian Boxall brings his scholarly expertise to the Gospel of Mark, traditionally represented by a lion: he calls it the untamed and untamable Gospel. Professor Boxall insightfully unveils Mark's rich portrayal of Jesus and of discipleship in ways that will be deeply meaningful to all audiences, no matter their background or prior biblical knowledge."
– Michael J. Gorman, St. Mary's Seminary & University Baltimore, Maryland
"Ian Boxall is a leading academic authority on the Book of Revelation. His research is meticulous, his perspective is clear and his communication skills are second to none."
– Prof. Mark Goodacre, Duke University
"Dr. Boxall has an excellent record of research and publication on the reception history of the gospels. He has a deep understanding of the biblical text and a broad knowledge of how it has been interpreted through the centuries. Furthermore, he has earned a reputation as an exceptionally gifted teacher able to effectively communicate his accumulated knowledge and wisdom."
– Dr. David Bosworth, The Catholic University of America
Showing all 12 results