Prof. Kathleen M. O'Connor, Ph.D.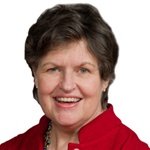 Professor Kathleen M. O'Connor is the William Marcellus McPheeters Professor of Old Testament, emerita, at Columbia Theological Seminary in Decatur, Georgia. She holds a Ph.D. from Princeton Theological Seminary and an M.A. from Providence College. Previously, she taught at the Maryknoll School of Theology and has taught frequently in local churches and given courses in Central America, Thailand, Japan, and Ireland.
The former president of the Catholic Biblical Association of America, Professor O'Connor has also been active in the Society of Biblical Literature. Professor O'Connor received a Henry Luce III Fellowship (2004-5) to write Jeremiah: Pain and Promise (Fortress, 2011), in which she draws from trauma studies to show how the prophetic book addresses profound suffering. Another of her books, Lamentations and the Tears of the World (Orbis, 2002), received first prize in Scripture from the Catholic Press Association, 2003. She is also the author of Job: New Collegeville Bible Commentary (Liturgical Press, 2012); The Wisdom Literature (Liturgical Press, 1988); and The Confessions of Jeremiah (Scholars Press, 1988); and she is the co-editor of Troubling Jeremiah (Sheffield Academic Press, 1999).
Showing all 4 results