Rev. Alfred Cioffi, S.T.D., Ph.D.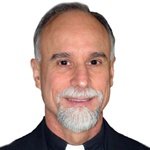 Rev. Alfred Cioffi is the Blue Cross-Blue Shield Endowed Chair in Biotheics and an Associate Professor of Biology and Bioethics at St. Thomas University in Miami and a Senior Fellow at the National Catholic Bioethics Center. He is an ethics advisor to the Archdiocese of Miami and the bishops of Florida.
After receiving his undergraduate degree in biology in Florida, he entered St. Vincent de Paul Regional Seminary and was ordained a priest in 1985. After five years of parish ministry service, Fr. Cioffi was sent to Rome where he earned his Doctorate in Sacred Theology, Magna Cum Laude, from the Pontifical Gregorian University. He later received his Ph.D. in Genetics from Purdue University. Fr. Cioffi is a frequent speaker on bioethics and life issues and is fluent in English, Spanish and Italian.
Showing the single result