Sr. Ilia Delio, O.S.F., Ph.D.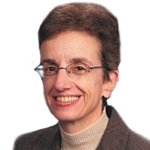 Ilia Delio, O.S.F, is an award-winning author and the Josephine C. Connelly Endowed Chair in Theology at Villanova University. She previously served as Professor and Chair of Spirituality Studies at Washington Theological Union and as a research fellow of Woodstock Theological Center at Georgetown University. Sr. Delio holds a doctorate in historical theology from Fordham University and a doctorate in pharmacology from the University of Medicine and Dentistry of New Jersey (UMDNJ)–Graduate School of Biomedical Sciences.
She has written extensively in the area of Franciscan theology and spirituality, as well as on various themes in science and religion. She lectures nationally and internationally in Franciscan theology, contemporary spirituality, and science and religion. Sr. Delio is the author or coauthor of seventeen books, including Care for Creation (with Keith Warner and Pamela Woods), The Emergent Christ, and The Unbearable Wholeness of Being: God, Evolution and the Power of Love, all of which were honored by the Catholic Press Association. Her other honors include the 2014 Silver Nautilus Book Award and two awards from the Templeton Foundation.
Showing the single result