Sr. Joan Mueller, OSC, Ph.D.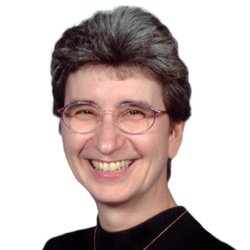 Joan Mueller, O.S.C., Ph.D., is an active Poor Clare Sister and an internationally known Franciscan scholar specializing in the writings of Clare of Assisi. A professor of systematic theology and Christian spirituality at Creighton University, Dr. Mueller is the author of twenty books and numerous scholarly encyclopedic entries and articles, including A Companion to Clare of Assisi: Life, Writings, and Spirituality (Brill, 2010); The Privilege of Poverty: Clare of Assisi, Agnes of Prague, and the Struggle for a Franciscan Rule for Women (Pennsylvania State University Press, 2006); Clare of Assisi: The Letters to Agnes (The Liturgical Press, 2003); and Clare's Letters to Agnes: Texts and Sources (The Franciscan Institute, 2001). Dr. Mueller served as the historical consultant to the Assisi musical, Francesco: Il Musical and wrote the accompanying novel Francis: The Saint of Assisi (New City Press, 2000, 2010), which has been translated into Dutch, German, and Italian.
Dr. Mueller's contributions to Clare studies include a new translation of the letters of Clare and Clare's Form of Life. These translations solve, for the first time, Clare's spirituality of the mirror image as well as numerous other technical questions. Internationally, Dr. Mueller was the first scholar to put Clare's letters in context not only with other documents found on the Italian peninsula but also within the European context—particularly, and most importantly, discovering Agnes of Prague's assistance in helping Clare lay the groundwork for a canonically-confirmed Franciscan Forma Vitae for women.
Showing all 2 results