Afterword by Fr. Anthony Ciorra, Ph.D.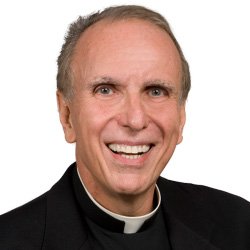 Fr. Anthony Ciorra, Ph.D., is a leading expert on Catholic spirituality. He was ordained as a priest in 1973. In recognition of his ministry in the Church, Pope John Paul II awarded him the pontifical honor Pro Ecclesia et Pontifice in 1999. Fr. Ciorra was also awarded the Caritas Centennial Award in 2000 for his work in lay ministry and the Spirit of RENEW Award for his work in interreligious dialogue and ecumenism.
Fr. Ciorra's books include Everyday Mysticism (Crossroad, 1995), Beauty: A Path to God (Paulist Press, 2013), and Moral Formation in the Parish (Alba House, 1998). He is also the co-editor, with Dr. Michael W. Higgins, of Vatican II: A Universal Call to Holiness (Paulist, 2012).
Fr. Ciorra holds graduate degrees in psychology, spirituality, and pastoral theology. He earned his Ph.D. in historical theology from Fordham University.
Currently, Fr. Ciorra is Vice President for Mission and Catholic Identity and Professor of Theology at Sacred Heart University. Previously, he served as dean of the Graduate School of Religion and Religious Education at Fordham University, director of the Center for Theological and Spiritual Development at the College of St. Elizabeth, and director of the Center for Spiritual Development for the Archdiocese of New York. His experience has included parish life, teaching, administration, retreat work, preaching, and formation ministries. As part of his role in giving international workshops and retreats, Fr. Ciorra is actively involved in creating programs for interreligious dialogue among Jews, Christians, and Muslims.
Showing 1–16 of 35 results