Fr. Dan Crosby, O.F.M. Cap., L.Th.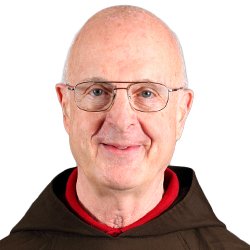 Fr. Dan Crosby, OFM Cap., is a member of the vibrant Capuchin Franciscan community at Saint Bonaventure Monastery in Detroit, Michigan. Previously, he served for fifteen years as the Director of the St. Anthony Retreat Center in Marathon, Wisconsin. After his ordination in 1964, he did post-graduate work at St. Paul's University in Ottawa and earned a licentiate in theology as well as a Masters in Theology. Fr. Crosby spent three more years of post-graduate work at the Institute of Formative Spirituality at Duquesne University in Pittsburgh, where he earned another Masters in Religion and Personality. For ten years, he taught theology and spirituality in Indiana and Wisconsin and spent eighteen years ministering to the poor in inner-city Milwaukee as well as at the Northern Cheyenne Reservation in Montana. Wherever he has ministered, Fr. Crosby has worked to integrate scripture as well as the Franciscan vision into his life and preaching. He has been a spiritual director and acclaimed retreat master throughout the country.
Praise for Dan Crosby
"Fr. Dan Crosby speaks with authority and unmasked passion, urging us to become the Eucharist we celebrate. . . . The Gospel comes to life with a compelling challenge to make a difference."
— Audrey Kast, Ph.D.
"As an expert in Franciscan spirituality, Fr. Dan Crosby masterfully guides people to discover the Mystery of God's gentleness and tender love in ordinary life events. His extensive knowledge of Blessed Solanus Casey puts him at the forefront of scholarship regarding his holiness. It is truly a delight to listen to Fr. Dan Crosby pop open rich kernels of spiritual truths."
– Sally McCuen, spiritual director at the Solanus Casey Center
"I ministered with Fr. Crosby for nine years at our Capuchin retreat center in Wisconsin. I was privileged to observe first-hand his preaching style. His content is deeply biblical, and he has a gift of connecting the Scriptures with the lives of ordinary people. He is easy to listen to and is able to put theological-spiritual truths into everyday language."
– Fr. Martin Pable, OFM Cap.
"Fr. Dan compels the viewer/listener to internalize the most powerful concepts, challenges and invitations of our treasure of faith. In so doing, his talks evangelize our spirits to become closer to Jesus and the Gospel challenges."
– Charles Erdeljac, Ph.D.
"Fr. Dan Crosby, OFM, Cap., is a dynamic international speaker and retreat master who is famous for offering a refreshingly personal and uniquely honest perspective that resonates with his listeners. Without exception, I leave his talks with a memorable word, phrase or concept that leads to deeper truths that have transformed my life."
– Lee Ann Niebuhr – Order of Secular Franciscans
"Fr. Dan Crosby is a Capuchin friar who knew Fr. Solanus Casey well from living with him in Detroit. He is a leading expert on the life and sanctity of our newest Blessed Franciscan. This series will enlighten you greatly on the spiritual legacy of a saintly friar who was an admirable example of Franciscan compassion and hospitality!"
– Fr. Steven J. McMichael, OFM Conv., Associate Professor of Theology, University of Saint Thomas
Showing 1–16 of 19 results