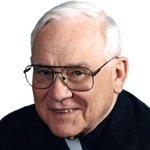 Rev. Gray (1930-2018) was a nationally recognized expert on Ignatian spirituality and served as Special Assistant to the President at Georgetown University in Washington, D.C. From 1983 to 1989, Rev. Gray was Provincial for the Detroit Province and, from 1991 to 1995, Executive Director of the Detroit Province Spirituality Team. He was an Associate Professor of Spiritual Theology at Weston School of Theology from 1977 to 1983, and he served both as Dean and as an adjunct professor in spiritual theology at the Jesuit School of Theology in Berkeley, California. During his long career, he also taught at Fordham and John Carroll Universities, Loyola University of New Orleans, and the University of Detroit Mercy. His many noteworthy publications include: An Experience in Ignatian Government and Studies in the Spirituality of the Jesuits.As a young man, Rev. Gray earned a bachelor's degree in Latin from the Society of Jesus at Milford, Ohio and a Master's degree in English from Loyola University Chicago. From there, he would go on to earn licentiates in philosophy and sacred theology from West Baden College in Indiana. From 1965 to 1968, Rev. Gray completed his doctoral studies in English as a Knapp Fellow at the University of Wisconsin, Madison.In May of 2018, Rev. Gray was involved in a car accident and subsequently succumbed to his injuries at St. Joseph Mercy Oakland in Pontiac, Michigan. He was 87 years old.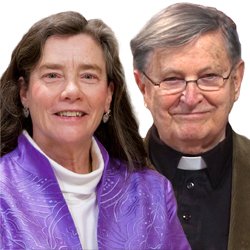 Rev. Harry Cain, S.J., brings a lifetime of ministry in spiritual direction and retreat work to his teaching. Rev. James Martin, S.J., best-selling author of The Jesuit Guide to (Almost) Everything and My Life with the Saints, said, "Harry Cain, S.J., is one of my favorite Jesuit spiritual directors: awake, attentive, and aware. Years ago he helped me through a tough time with his wise advice and caring manner. To listen to these tapes is to listen to a truly gifted spiritual guide." Rev. Cain has served as national director of the Movement for a Better World team, with whom he preached throughout the U.S. from 1970 to 1974. His preaching style is known for its wit, wisdom, and humor. He is a Jesuit of the New England Province and was ordained in 1963.
Virginia Blass, D.Min., has more than 25 years of experience in retreat ministry and teaching. Her latest book is Becoming Like the Beloved. She is also the author of Loaves and Fishes: From Faith Experience to Empowered Community, which addresses social outreach and discernment issues related to parish life. Virginia Blass has also founded a non-profit, charitable organization called Concordia to make retreat direction more accessible to rural parishes.