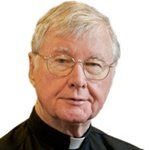 Fr. Brian McDermott, S.J. is a Catholic priest and a member of the Jesuits, the Society of Jesus. He is currently the Special Assistant to the President at Georgetown University. He previously served as Rector of the Jesuit Community, Research Professor in the Department of Theology, and Affiliate Professor in the Department of Pastoral Counseling at Loyola University Maryland. He received his doctorate in systematic theology from the University of Nijmegen, The Netherlands, in 1973. From 1973 to 2000, he was a member of the faculty of Weston Jesuit School of Theology in Cambridge, Mass., serving as academic dean for eight of those years. Fr. McDermott is the author of two books, What are They Saying About the Grace of Christ? and Word Become Flesh: Dimensions of Christology as well as numerous articles and reviews.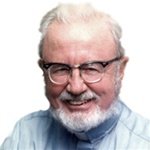 Fr. Montague is a Marianist priest recognized internationally for his twenty books on spirituality, theology, and scripture, including The Holy Spirit: Growth of a Biblical Tradition and Holy Spirit and Make Your Home in Me: Biblical Meditations on Receiving the Gift of the Spirit.
Fr. Montague is currently a Professor of Theology at St. Mary's University and the former president of the Catholic Biblical Association of America and has served as editor of the Catholic Biblical Quarterly. A highly regarded speaker and teacher, he is professor of Theology at St. Mary's University in San Antonio, Texas.