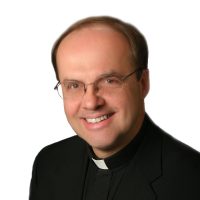 Fr. Felix Just, S.J., Ph.D., is a leading scholar on Catholicism and the New Testament. After receiving his Ph.D. in New Testament studies from Yale University, he taught at Loyola Marymount University, the University of San Francisco, and Santa Clara University. He then served for many years as Director of Biblical Ministries and Executive Director of the Loyola Institute for Spirituality in Orange, CA, and as Dean of the Lay Ecclesial Ministry and Deacon Formation programs of the Diocese of Las Vegas. He regularly teaches courses for the Ecclesia program of Mount Saint Mary's University and several Catholic Bible Institutes in California and Arizona. A member of the Jesuits West USA Province of the Society of Jesus, he currently serves as the Minister of the Loyola House Jesuit Community in San Francisco and as the Director of Jesuit Biblical Ministries. 
Fr. Just lectures widely on a variety of biblical and liturgical topics and often leads biblically based days of prayer, parish missions, retreats, and pilgrimages. A member of the editorial board for the revision of the New Testament of the New American Bible and an active member of the Catholic Biblical Association of America, he also maintains his own internationally recognized website, Catholic Resources.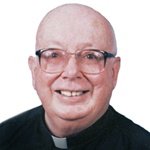 Fr. John R. Donahue, S.J., S.T.L., Ph.D., is the Raymond E. Brown, Distinguished Professor of New Testament Studies (Emeritus) St. Mary's Seminary and University, Baltimore, and is presently Research Professor in Theology at Loyola University Maryland. Fr. Donahue is Past President of the Catholic Biblical Association of America and has served on national and international ecumenical dialogues. He earned a Ph.D. in New Testament from the University of Chicago, where he wrote a doctoral thesis on the Gospel of Mark. He also holds a Ph.L. and M.A. from Fordham University and an S.T.L. from Woodstock College in Maryland. Fr. Donahue published three volumes of commentaries on the Sunday Readings, one of which won First Place in Professional Books from the Catholic Press Association. Other books include The Gospel of Mark, Are You the Christ: The Trial Narrative in the Gospel of Mark, Theology and Setting of Discipleship in the Gospel of Mark, What Does the Lord Require: A Bibliographical Essay on the Bible and Social Justice, The Gospel in Parable: Metaphor, and Narrative and Theology in the Gospel of Mark. From 1998–2001, he wrote the weekly "Word" column for America.