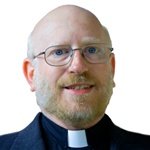 Thomas Massaro, S.J., Ph.D., is Professor of Moral Theology at the Santa Clara University Jesuit School of Theology (JST) in Berkeley, CA. He resumed classroom teaching in the fall of 2017 after serving for four years as Dean of JST.
Fr. Massaro entered the Society of Jesus immediately upon graduation from Amherst College. He earned his doctorate in Christian social ethics from Emory University and taught for 15 years at the Boston College School of Theology and Ministry and its predecessor, Weston Jesuit School of Theology in Cambridge.
His teaching and research interests include Catholic social ethics, theories of economic justice, sociology of religion and the history of Christian political thought. Besides teaching courses on many aspects of Catholic social teaching and the role of religion in public life, Fr. Massaro seeks to maintain a commitment to hands-on social activism. He is a founding member of Catholic Scholars for Worker Justice as well as an active member of two professional societies: the Society of Christian Ethics and the Catholic Theological Society of America.
Fr. Massaro is the author of Living Justice: Catholic Social Teaching in Action, originally published in 2000 and now in its third edition. From 2009 to 2013, he wrote a column in America magazine.