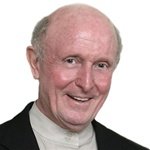 Father Michael Crosby was a Capuchin Franciscan. He lived in community with other friars in a downtown Milwaukee parish that serves the urban poor, homeless, and marginalized.

Since 1973, Fr. Crosby was a pioneer among Catholics in promoting corporate reform through socially responsible investing. He was influential in getting Catholics to work with the Protestant and Jewish communities in this effort at the Interfaith Center on Corporate Responsibility (ICCR).

Fr. Crosby's preaching and writing on contemporary biblical discipleship took him around the world. Toward this end he gave retreats, workshops and parish missions. He wrote seventeen books, including Spirituality of the Beatitudes: Matthew's Vision for the Church in an Unjust World (Orbis, 1981), which has had more than 20 printings. Many of his books received awards from the Catholic Press Association of Canada and the United States, including a first place award for Can Religious Life Be Prophetic? and a second place award for Finding Francis, Following Christ (Orbis, 2007). Fr. Crosby was also the author of Fruits of the Spirit: Pauline Mysticism for the Church Today (Orbis, 2015), Repair My House: Becoming a "Kindom" Catholic (Orbis, 2012), and The Paradox of Power: Moving from Control to Compassion in a Violent World (Crossroads, 2008) and Spirituality of the Beatitudes (Orbis, 2005).