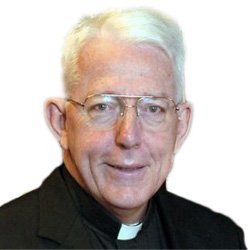 Rev. Edward A. Malloy, C.S.C., is President Emeritus of the University of Notre Dame. He served as president for 18 years and as vice president for five years, and continues to teach first-year seminars for undergraduates each semester. He is  author of more than 50 articles and six books, including the three-volume series Monk's Tale. An ethicist by training, he is a member of the Catholic Theological Society of America and the Society of Christian Ethics.
 
Fr. Malloy earned his doctorate in Christian ethics from Vanderbilt University in 1975. Over his career, he has been awarded 24 honorary degrees and has served the Catholic Church in a number of capacities, including participation on the Ex corde Ecclesiae committee and the Bishops-Presidents committee of the United States Conference of Catholic Bishops.
In addition to his academic duties, Fr. Malloy has long sought to combat substance abuse. He has been a member of the National Advisory Council on Alcohol Abuse and Alcoholism, President Bush's Advisory Council on Drugs, the Community Anti-Drug Coalitions of America, the Governor's Commission for a Drug-Free Indiana, and the board of the National Center on Addiction and Substance Abuse (CASA) at Columbia University. He also co-chaired a milestone study on college drinking for the National Institute on Alcohol Abuse and Alcoholism.