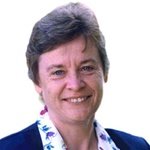 Sr. Mary Beth Ingham, C.S.J., Ph.D., is an expert on the thought of Blessed John Duns Scotus. She is Professor of Philosophical Theology at the Franciscan School of Theology in Oceanside, California. After earning her doctorate in Medieval Philosophy at the University of Fribourg in Switzerland, she taught for twenty-five years at Loyola Marymount University before joining the faculty at FST.
Sr. Ingham's books include The Harmony of Goodness: Mutuality and Moral Living According to John Duns Scotus; Scotus for Dunces: An Introduction to the Subtle Doctor; Rejoicing in the Works of the Lord: Beauty in the Franciscan Tradition; and Understanding John Duns Scotus: Of Reality the Rarest-Veined Unraveller. Sr. Ingham received the Fritz B. Burns Medal for Excellence in Teaching (2000) at Loyola Marymount University. She has served as President of the American Catholic Philosophical Association and as Secretary for the Society for Medieval and Renaissance Philosophy. A popular presenter with Franciscan groups, such as the Association of Franciscan Colleges and Universities and the United States Franciscan Federation, Sr. Ingham was awarded an honorary doctorate by two Franciscan institutions: Siena College in Albany, New York, and Felician University in Lodi, New Jersey.
Praise for Sr. Ingham
"Mary Beth Ingham, CSJ, is a gifted scholar and master teacher. An insightful and careful reader of the 'Subtle Doctor,' Ingham effectively and creatively communicates the practical significance of Scotus' thought for today in scholarly, academic, and pastoral settings." – Edward Coughlin, OFM, President, Siena College
"One of the foremost Scotus scholars in the world today, Mary Beth Ingham presents a refreshing and positive understanding of the human person, the nature of God and the value of creation. She weaves a rich tapestry of love, beauty and freedom with expert hands. Presenting the Franciscan worldview of mutuality and goodness, she will entice and enthrall those who hear her to desire and love the beautiful good." –David B. Couturier, OFM. Cap., Ph.D., D.Min.