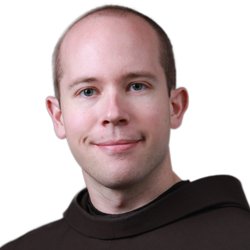 Fr. Daniel Horan, O.F.M., is an award-winning author and professor, a columnist for America magazine, and a visiting scholar of systematic theology and spirituality at the Catholic Theological Union in Chicago. A Franciscan friar, he holds a Ph.D. in systematic theology from Boston College. He has previously taught at St. Bonaventure University, Siena College, and the Boston College School of Theology. He is a frequent lecturer and retreat director across North America and Europe. Fr. Horan is the former Catholic Chaplain at Babson College and serves on the Board of Directors of the International Thomas Merton Society.
Fr. Horan is the author of books that include The Franciscan Heart of Thomas Merton: A New Look at the Spiritual Inspiration of His Life, Thought, and Writing (Ave Maria Press, 2014); God Is Not Fair and Other Reasons for Gratitude (Franciscan Media, 2016); Postmodernity and Univocity: A Critical Account of Radical Orthodoxy and John Duns Scotus (Fortress Press, 2014); Francis of Assisi and the Future of Faith: Exploring Franciscan Theology and Spirituality in the Modern World (Tau Publishing, 2012); Dating God: Live and Love in the Way of St. Francis (Franciscan Media, 2013); and The Last Words of Jesus: A Meditation on Love and Suffering (St. Anthony Messenger, 2012). The author of more than one hundred scholarly and popular articles, Fr. Horan has published in journals that include Theological Studies, New Blackfriars, The Heythrop Journal, Worship, and Cistercian Studies Quarterly.
Praise for Dan Horan
"Dan Horan is blessed with that rare combination of an engaging and accessible teaching style merged with deep learning and academic insight. His listeners and readers always learn something new. They will also discover that Fr. Horan has not only enlightened their minds, but enriched their spirituality, too." – Christopher M. Bellitto, Ph.D., Kean University
"Fr. Daniel Horan brings a new creativity and freshness to the world of theology. His presentations on Pope Francis and Francis of Assisi are both informative and inspiring. His serious scholarship is enhanced by his gift for presenting his material in an engaging and profound way." – Anthony Ciorra, Ph.D., Sacred Heart University
"Dan Horan, theologian, sees and evaluates the Merton legacy—in the context of Merton's substantive religious thought—with imagination and verve. Dan Horan, the friar, complements this reading of Merton with a sensibility nurtured by a spiritual tradition in Catholicism that had special appeal to Merton—the Franciscan. The listener will benefit from both perspectives in this lively and engaging series." – Michael W. Higgins, Ph.D., Distinguished Professor of Catholic Thought, Sacred Heart University, and a biographer and Thomas Merton scholar.