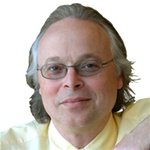 Daniel L. Smith-Christopher is a professor of Old Testament studies at Loyola Marymount University, where he has taught for 18 years. He earned his doctorate in Old Testament studies at Oxford University in England, and has published 13 books and dozens of articles.
Professor Smith-Christopher was appointed by Cardinal Roger Mohoney as a permanent consultant to the Theological Commission of the Archdiocese of Los Angeles. He is one of the most popular presenters each year at the Archdiocese of Los Angeles Religious Educational Congress. Named in 2006 "Undergraduate Theology Teacher of the Year" by Augsburg/Fortress Press, and in 2007, "Professor of the Year" by the Associated Students of Loyola Marymount University, Dr. Christopher is a celebrated teacher and internationally respected Bible expert.
Dr. Christopher has published 13 books and dozens of scholarly articles and reviews in Biblical studies. His most recent books include an academic work called A Biblical Theology of Exile . He appears regularly on television in documentaries broadcast by A&E, Discovery, The History Channel, The National Geographic Network, and PBS.