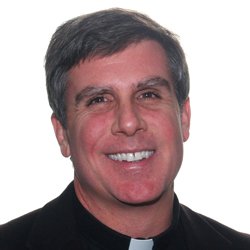 The recipient of multiple teaching awards, Fr. David Vincent Meconi, S.J., D.Phil., is an Associate Professor of Historical Theology at Saint Louis University, where he directs the new Catholic Studies Centre. Fr. Meconi holds a doctorate in ecclesiastical history from the University of Oxford and a pontifical license in patrology from the University of Innsbruck in Austria. He serves as the editor of Homiletic and Pastoral Review and has published numerous books and articles on the early Church, including The One Christ: St. Augustine's Theology of Deification (Catholic University of America, 2013).Fr. Meconi is a fellow of the Augustinian Institute at Villanova University, and he serves on the ecclesiastical board of Boston College.
Praise for Fr. David Vincent Meconi, S.J., D.Phil.
"The brilliant Augustine scholar Fr. David Meconi is well-known for his boundless energy in teaching, preaching, and writing… His personal love for the Trinity shines forth in his scholarship, and now it is available through Now You Know Media. Everyone who can't take his courses at Saint Louis University needs this lecture series." – Matthew Levering, Mundelein Seminary
"Fr. Meconi, SJ, gives witness to a rare and refreshing combination of scholarly insight and priestly compassion. An accomplished scholar and professor of theology, he reflects a life committed to the care of souls and the building of the body of Christ." – Christopher Thompson, Ph.D., The Saint Paul Seminary School of Divinity
"Fr. David Meconi, S.J., is a priest with the mind of a scholar and the heart of a pastor, equally comfortable with plumbing the depths of Augustinian theology with students as he is with conveying the riches of Catholic spirituality to popular audiences." – Carl E. Olson, best-selling author and Editor of Catholic World Report
"[Fr. Meconi's] love of the topic gets translated into a passion to communicate the beauty of the truth of our Faith. I suspect that the listener will catch his passion for truth and grow spiritually as it instructs the interior of the soul." – Fr. Mitch Pacwa, S.J.