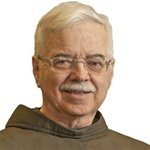 Pat McCloskey, O.F.M., M.A., has been a priest for 36 years and is the Franciscan Editor of St. Anthony Messenger magazine, the author of three of its monthly columns and editor of four other St. Anthony Messenger Press publications. He has most recently written Ask a Franciscan: Answers to Catholic Questions (St. Anthony Messenger Press) and is the author of five previous books.
Fr. McCloskey holds a master's of divinity (St. Leonard College), an M.A. in theology (University of Dayton) and an M.A. in Franciscan studies (St. Bonaventure University). He has audited two courses at the Gregorian University in Rome.
He has as edited several books, including three editions each of Saint of the Day and Believing in Jesus (both by St. Anthony Messenger Press). For five and a half years he served as director of communications at the international headquarters of the Order of Friars Minor (1986-92). He taught religion at Roger Bacon High School in Cincinnati for 16 years full-time, including seven years as chaplain, and another three years part-time.
After serving as associate editor of St. Anthony Messenger (June 1999-May 2002), Fr. Pat became its editor-in-chief (June 2002-December 2010). In the latter position, he coordinated the magazine's articles and editorials, including its coverage of the clergy sex-abuse crisis. For St. Anthony Messenger's June 2003 special issue, "Crisis in the Church: Our Search for Healing," he wrote the introductory article, "Honesty Comes Before Healing."
As a member of the Order of Friars Minor, he belongs to St. John the Baptist Province, headquartered in Cincinnati, Ohio, and was ordained a priest in 1975.