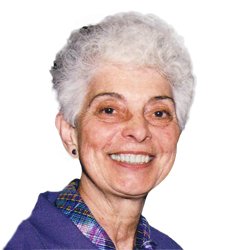 Sr. Camille D'Arienzo, R.S.M., Ph.D., is a Sister of Mercy of the Institute of the Americas, living in the Diocese of Brooklyn, New York. She received her doctorate in communications from the University of Michigan, and she was a professor at Brooklyn College from 1973–1993. She served as president of the Brooklyn Regional Community of the Institute of the Sisters of Mercy of the Americas from 1993 – 2001, and as president of the Leadership Conference of Women Religious (LCWR) from 1998–1999. Sister Camille lectures and leads retreats throughout the country on the challenge of reconciliation in an unforgiving world.
Camille's experience with the New York media includes 39 years as a religion commentator for 1010 WINS Radio. Her preparation for this public role includes the influence of CBS broadcast commentator, Eric Sevareid. She has co-authored a textbook on scriptwriting and has published many hundreds of newspaper and magazine articles. A bi-weekly columnist for The National Catholic Reporter, she has long interacted with media professionals, serving as consultant to journalists and broadcasters. Her public positions on matters of social justice have won her numerous awards, including two honorary doctorates.
Founder of the Cherish Life Circle, she is widely known for her efforts to end capital punishment and for the circulation of a Declaration of Life, which allows individuals to affirm their opposition to the death penalty. Since 1998, she has served as spiritual adviser to David Paul Hammer, who is on death row in Terre Haute, Indiana.