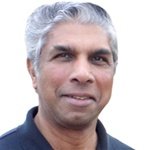 Professor Paul Coutinho is an internationally recognized Ignatian scholar and speaker, who brings an Eastern flavor to Western spirituality. Originally from India, he shares his knowledge and experience of Saint Ignatius in various parts of the world through retreats, workshops, seminars, keynote speeches, his books, and other writings.
Professor Paul Coutinho has earned two masters degrees in Clinical Psychology and Religious Studies. He has a Ph.D. in Historical Theology, focused on Ignatian Spirituality, from Saint Louis University. Professor Coutinho is the author of The Ignatian Ideal and Jesuit Reality (Gujarat Sahitya Press, 1999), How Big Is Your God? The Freedom to Experience the Divine, published by Loyola Press (Loyola Press, 2007), and Just as You Are: Opening your Life to the Infinite Loveof God (Loyola Press, 2009), and An Ignatian Pathway: Experiencing the Mystical Dimension of the Spiritual Exercises (Loyola Press, 2011).
Professor Coutinho previously served as a faculty member of the Theological Studies Department and as the Assistant for Mission Formation in the Division of Mission and Ministry at Saint Louis University. He was also the Director of Ignatian Spirituality for South Asia and the Editor of Ignis: South Asian Journal of Ignatian Spirituality from 1996 to 2009.