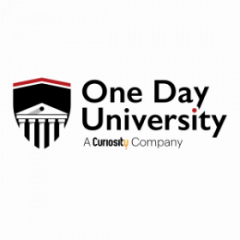 One Day University believes learning should always be informative, inspiring and fun.
For the last 12 years, One Day U has worked with the country's most popular professors to develop entertaining versions of their best lectures. Their professors have won countless teaching awards and earned the highest possible ratings from their students. Now, you can access their entire video library and join their professors for new talks every day.
In the One Day U catalog, you'll find lectures on everything from the Beach Boys to Bitcoin. You'll gain new insight into art, history, and politics, into everyday rituals and the unexplained mysteries of the universe.
At One Day U there are no grades, no tests, no homework — just the pure joy of lifelong learning. View the entire video catalog at OneDayU.com.